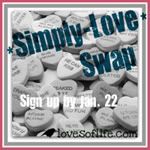 I told y'all this would happen. The day I start classes, I get overwhelmed.
Right now, I'm searching for a new (used) car. My car is on the fritz really bad. I'm searching high and low- Chattanooga, Birmingham, you name it, I'm looking. Although, I'm sort of picky (Honda Accord or Civic.) My parents have a Honda and Toyota and I love them. So anyway, that's where my time's going when I'm not doing homework.
BUT.
Katie
is holding a Valentine swap for all of us crazy bloggers. Click the picture above (or her name) and go sign up!